The national employee turnover rate is increasing every year. According to the 2021 Bureau of Labor Statistics report, the total separation rate for 2020 was 57.3% (up by 12.2% since 2019). While that number may seem overwhelming, fear not! We at Revolution are here to help with this list of the top 4 employee strategies to increase employee retention.
1. Onboarding is Key
First impressions matter. Research by Glassdoor found organizations with a strong onboarding process improve new hire retention by 82%. Onboarding is arguably the most important part of creating and maintaining employee engagement. The following are just a few of the many things a company can do to implement a more effective onboarding process:
Send paperwork, handbooks, benefits guide, etc.  to the employee before they start.
Set up the new hire's desk, computer, and phone before they begin.
Assign someone to be the new hire's "guide"- a person they can go to with any questions about onboarding, policies, etc.
Set clear expectations and objectives from the beginning.
Once the employee starts, onboarding doesn't end. Make sure to check-in with them frequently to see how they are doing/ feeling in their new role.
Onboarding is everything at Revolution, which is why we have a dedicated onboarding team to guide consultants through the entire process. Our goal is to simplify onboarding so our new employees can feel confident and comfortable as they embark on their new journey in their new role.
2. Encourage Communication & Feedback
Communication is vital in any relationship, and that includes the relationship between a company and its employees. According to Salesforce, 86% of employees and executives cite lack of collaboration or ineffective communication for workplace failures. Establishing an internal communications strategy can lead to better morale, stronger job satisfaction, increased collaboration, and an overall better employee experience.
There are many initiatives a company can take to improve its communication with employees:
Regularly communicating company news, changes or updates via email
Having an internal messaging tool for communication between departments and employees
Giving employees a clear understanding of the company's core visions and values
Hosting collaborative meetings where employees are encouraged to participate and share ideas
Embracing and encouraging employee feedback through employee surveys, in-person one-on-ones, and group meetings/ discussions.
Employees want to feel involved and want their voices to be heard. At Revolution, having open communication is our goal! We frequently communicate company news to our associates, conduct collaborative meetings, and request employee feedback through surveys, meetings and one-on-ones. We also utilize Microsoft Teams to collaborate on different ideas and communicate with coworkers.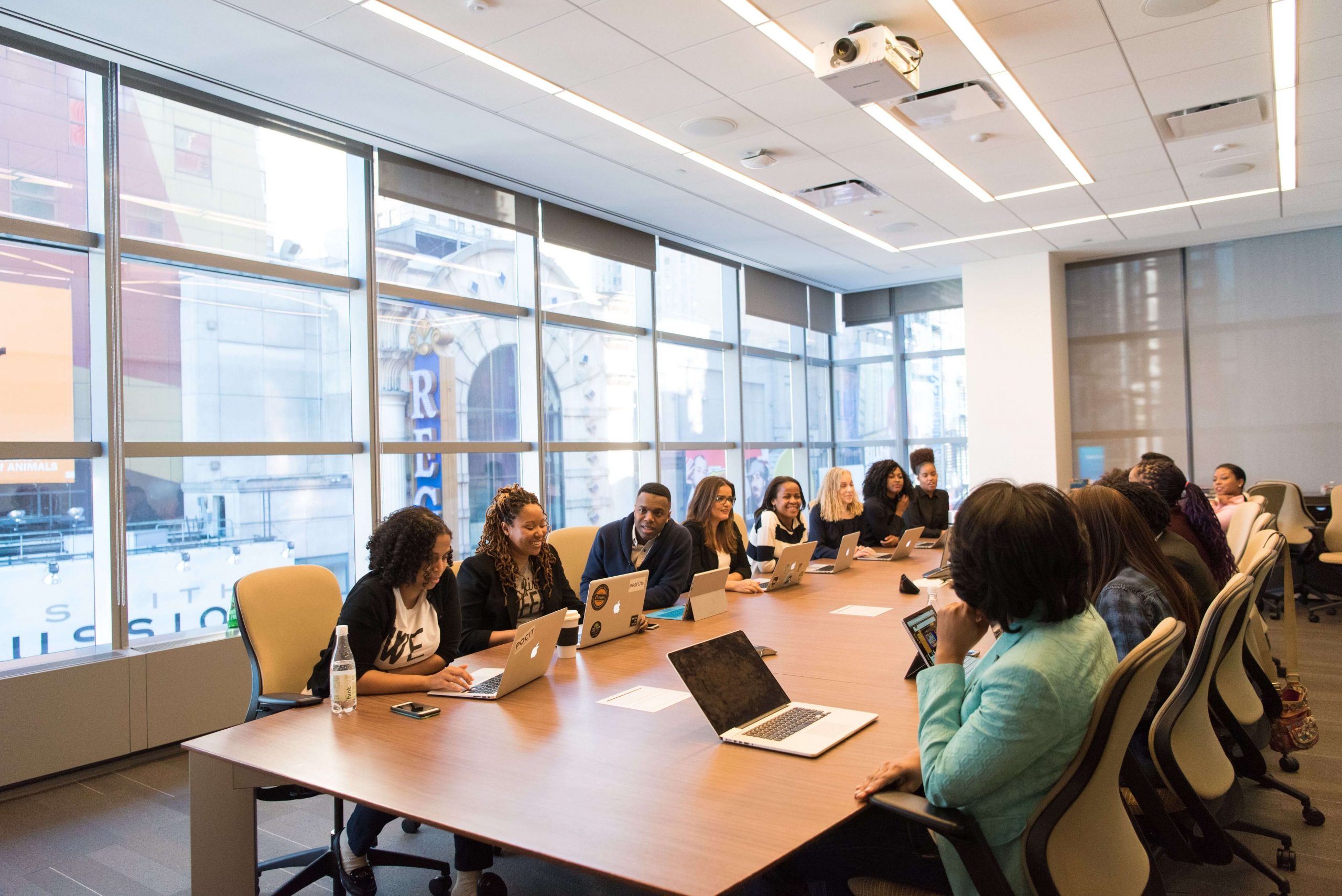 3. Recognize & Reward
When employees don't feel appreciated for their good work, they're less likely to continue putting in the same effort. Employee recognition lets employees know they are valued at work, leads to increased retention and an overall improvement in workplace happiness and engagement.
According to a survey conducted by SurveyMonkey and Bonusly, 63% of respondents who were recognized at work said they were very unlikely to look for a new job.  Whether it be a "shout-out" on the company website, a promotion, a monetary reward, a team-outing or simply saying "thank you," taking the time to recognize your top talent can greatly improve motivation and satisfaction in the workplace.
Here at Revolution, we love to celebrate achievements in the office! From work anniversaries to ringing the bell when we bring new talent to our client's sites, we're proud of our employees' accomplishments, and regularly recognize our team with merch, company-wide shoutouts, treats and team outings!
4. Promote a Healthy Work-Life Balance
In order to create a positive work environment that makes employees want to stay, you'll need to prevent burnout. Promoting a healthy work-life balance is one way to accomplish this, and the benefits of allowing employees to have a work-life balance don't just end with retention. Having that balance can lead to increased productivity, healthier employees, and higher engagement.  Encouraging breaks, giving PTO, allowing employees to work remotely when emergencies arise, and promoting health initiatives are all effective ways a company can ensure its employees have a healthy work-life balance.
Revolution Technologies recognizes that life happens, and we want our employees to feel that they can take time off when needed. In addition to providing vacation time, Revolution's wellness committee, RT Health, was launched earlier this year in an effort to promote overall health and well-being among our employees across the nation!
While some turnover is inevitable, implementing these strategies is a great way to increase your employee retention rate and keep your company's top talent happy and thriving! Making onboarding, open communication, recognition, and a healthy work-life balance priorities in the workplace is essential to enhancing employee loyalty and trust.